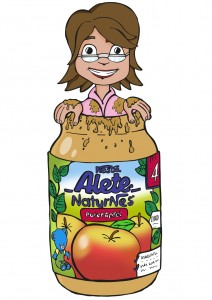 It was hard labor! I don't mean the birth of my grandchild, but to bring all my friends together to taste baby cereal. At first, one of them went on vacation for a few days, then the husband of another woman had his birthday, there also was a nip and tuck, as well as the invitation to Feuerzangenbowle. But then we finally made it, I brought them together. Well, they didn't know how lucky they were: that they would be baby food testers, but you don't spoil all the surprises at the invitation, do you?
You might remember that I e-mailed Hipp and Alete telling them that it is my duty as grandmother-to-be to taste whatever my grandchild will be fed. Hipp played possum whereas Alete made this baby food test party possible. I added some more food and thus could offer a rounded meal. I refused to just put the glasses on the table so that each woman would casually dip her spoon in the mash. No, I didn't make it that easy. Not with these women. They like all the bells and whistles: fancy and fitting decoration, some of it in light blue, some in rosy, with a cherry on top. Everything should be a little classier than elsewhere. By the way, they had kindly refused my official baby food party invitation some weeks before. Well, so I took another way.
I must admit I was a bit nervous because I wasn't sure how they would react. On the other hand, they do know that I like surprises. Didn't I bring my little evening bucket to the fancy restaurant where the vegetarian dishes were to be found under the left leaf of salad? I pitied the only vegetarian that night who must have been still hungry if she hadn't been given our salad and side dishes. But back to the baby food party. Of course I laid the table in a very classy manner, with chandeliers and candlesticks, with a fancy flower arrangement in light rose and whatsoever, my finest china, which sparkled without smearing, as well as the glasses. I had worked like a dog! Then it began.
Firstly, I served a drink and an amuse-gueule. It was a heart-shaped piece of white bread with an exquisite pastry, which, of course, I had also prepared in a veggie version, next to a little decoration. After that came a small chestnut foam soup with toast and fine homemade herb butter. Everyone liked it. Me too, since now it started.
I removed the soup plates and fetched the small china doll plates I had prepared from the next room. As luck would have it, these china doll dishes had caught my attention in an antique shop recently when I was on my way. The price was okay, so I had to grab them. They were awesome and glamorized my baby food test the way I had intended. Everything should be in proper style that night. I served an intermediate course: vegetable stew and vegetables with starlet noodles and turkey, which I had warmed up in a bain Marie. By the way: I made a mistake during the rehearsal without guests, as you will recognize on the picture. Which one it was? I better keep this my little secret, the picture grandpa-to-be joyously took of me will do.
The first hunger was appeased by the starter, and the girls started to chitchat, certainly looking forward to the next course. Destroying the anticipation of roast beef, I now put the plates with baby food on the table. There was immediately dead silence, everyone looked at the Something before her. "Something" means the tiny plate which practically disappeared in the underplate and was absorbed by it.
What else should they do than take it with good nature? Don't think they made a fuss. They grabbed the tiny fork and knife and started eating without hesitating. Adults always tend to add salt and pepper, but although the spices were on the table, no one did so. Afterwards, I served the promised roast beef which was already in the oven, waiting to be served.
For an intermediate fruit course before dessert, I offered several fruits on night mashes, for instance semolina pudding, each by Alete, this, of course, surprised no one any more. They all rather liked the fruit mashes than the hearty ones, which is certainly due to the missing spices. As a matter of course, the men had to taste as well when they arrived to pick up their wives.
I want to thank Alete! Without their donation I wouldn't have had the idea to do such a baby food party described here. Thank you very much!